Its about the people interacting with the artwork; engaging with the exhibition.
---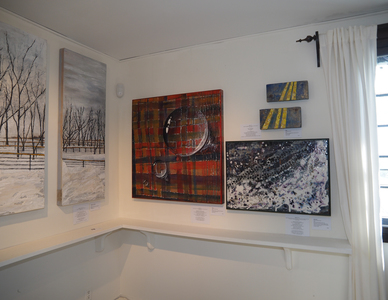 2015 Beneath the Long Grass: The Constructed Canvas, Leighton Arts Centre
Leighton Arts Centre Exhibition - June 20 to Aug 1, 2015
BENEATH THE LONG GRASS: THE CONSTRUCTED CANVAS: presents an acute awareness of something that lies beneath. My work is supported by strong underlying structures and constructed canvases; I am interested in a clearly evident means of construction. The works contemplate energy and environment using layers, transparencies, and a depth of materials. Encaustic waxes combine with transparent oil paints over an underlying support of specifically woven tapestry or interwoven canvas, burlap, or linen. Layers move on and off the surface, in search of a connection between the way that I sense, and the way that I come to understand the natural energies at play in our environments.
Beneath the Long Grass: The Constructed Canvas examines what lies beneath my conscious awareness of the land and moreover, what lies beneath a whole romantic conception of nature. Here is the mindset of a realist, existing in a world filled with energies, both physical and contemplative. Human and natural forces meet with both challenge and synergy and are planted firmly together in the enduring prairie landscape.

LAYERED MEANING: THE CONSTRUCTED CANVAS with Sharon Hogg
Layer the meaning of materials with your unique memories and impressions. Give encaustic medium (beeswax and damar resin) an introductory try. Combine this base medium with oil paints to add both layered meanings and fleeting impressions to your work. This workshop is designed for artists of all levels; those who are either new to encaustic and/or oil paints or those who want to give this collage of familiar processes a try. We will use preliminary sketches, and a progression of demonstrations and hands-on technique application to show the possibilities of mixing these media and building up a surface image within a coherent and critical thought process.


---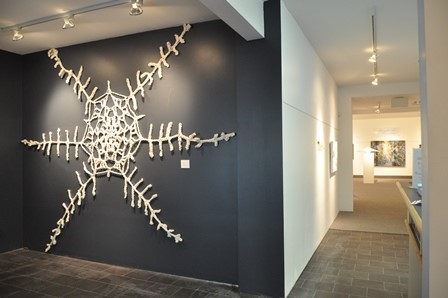 2015 Agnes Jamieson Gallery - Winter in Minden
Minden Hills Cultural Centre
Agnes Jamieson Gallery Exhibitions

Presently Exhibiting

WINTER February 10 – March 21
Opening wine reception February 14 at 1pm. Guest speakers and curator talk.

We bemoan the bone chilling, grey days of getting up in the dark and going home in the dark. There is shoveling and shoveling, and more shoveling. Others nearly die of fright, white-knuckling their steering wheel as they just miss a snowplow blade; causing their view to disappear from a wave of slushy snow slamming into their windshield. Fun.

Call for entry resulted in seventy responses from across Canada. This exhibition expresses Canadian artists love/hate relationship with our Winter. Consisting of many different disciplines this is a remarkable collection of what can been seen when living through the cold, blustery months.

Artists whose work was selected: Peter Adams * Nathalie Bertin * Paul Boultbee * Kate Carder-Thompson * Nathan Chan * Gillian Collyer * Doug Cosbie * Eva Cvijanovic * Susan Dain * Nomi Drory * Pat Dumas-Hudecki * Gail Ellison * Andrea End * David French * Robin Hesse * Sharon Hogg * Alex Jack * Carmella Karijo Rother * Lynda Lynn * Liz Menard * Jihee Min * David Nehring * Rob Niezen * Gaia Orion * Rhoda Payne * Bev Rodin * Snaige Sileika * Elizabeth Sullivan * Irina Tesk * Kimberly Tucker * Andrew Wall * Victoria Ward * Julie Withrow * Selene Yuen

---
---
---
---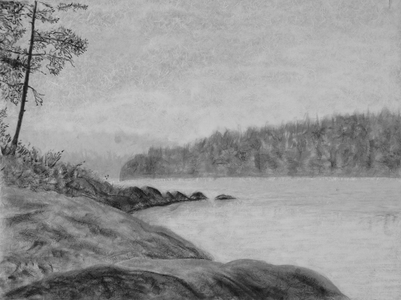 2011 The Accumulated Landscape
The Accumulated Landscape - Solo Show - Marion Nicoll Gallery 2010

The Accumulated Landscape explores some ways that memories and experience
accumulate in our perception of landscape. Moments coalesce into vague images and solid emotions. Years of living, working, travelling and sketching. Experienced moment by moment, the resultant memories and images are captured in snapshots.

Time's arrow, however, is sticky. Memories and images don't seamlessly slip by. These snapshots coagulate, degenerate and ultimately culminate in two very different larger works; Last Refuge, and This Huge Small World That I Survey.

---
---
---
---
---
---
---